Geplaatst op 11-01-2022 - Categorie: News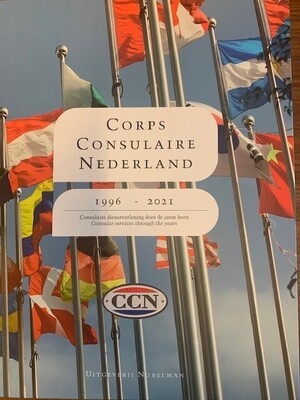 On the occasion of the 25th anniversary of Corps Consulaire Nederland a jubilee book has been compiled:
"Corps Consulaire Nederland 1996-2021, Consular services through the years"
The jubilee book takes you through the past years, including special experiences of some consuls in the performance of their duties and the history of Corps Consulaire Nederland and the history of the consular function in general
Dr Bernard R. Bot, former Minister of Foreign Affairs and former Ambassador, addresses in his preface the indispensable role of consuls and the support they receive from CCN.
He speaks of a "well-deserved tribute to the many consuls who work day and night for the interests of the country they represent".
The members of CCN can be proud of these laudatory words and of this splendid publication; a true collectors' item.
Copies can be ordered by e-mail from the CCN Secretariat tairaterces.[antispam].@ccnederland.eu
1 copy €40
2 copies €75
3 copies €100,--